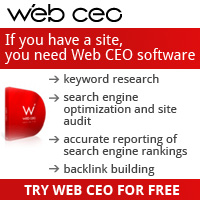 Web CEO is a Search Engine Optimisation (SEO) and Search Engine Marketing (SEM) software package. The software features 12 specialised tools designed to target the best keywords within your chosen market, implement them into your website and monitor effectiveness.
I have used Web CEO within all of my Niche Websites and I am going to take this opportunity to discuss some of the features of the software and how they can be put to best use when creating Niche Websites. The software is that powerful that you will even be able to provide SEO services to other websites should you choose to.
The features of the Software are split into 4 main areas and host the following tools:
1. Find your Niche
Find Keywords

- Find the best keywords within your chosen market based on popularity of search and competition within the market

Optimise Pages

- integrate your chosen keywords into your pages using industry recognised best practice

Edit Pages

- Edit your pages using internal HTML editor
2. Promote your Site
Submit URLs

- Submit your website to multiple Search Engines and get the ball rolling

Find Link Partners

– Find partners within your market to establish professional relationships and manage correspondance

Manage PPC Campaigns

– Manage all of your PPC campaigns in one centralised location
3. Analyse your Site
Check Rankings

– Check how your site ranks within major search engines for targetted keywords.

Analyse Link Popularity

– View the amount and quality of inbound links to your website and that of your competition

Get Traffic Reports

– Built in analytics tool
4. Maintain your Site
Upload Files over FTP

– Publish your site live to the Internet

Control Site Quality

– Check the health of your website including broken link checker

Monitor Site Uptime

– Keep a close eye on the performance of your site

I am a big fan of Web CEO and would advise anyone to at least give the free trial a go. The software is quite expensive and I would be lying if I said it is something that you cannot be without. But if used correctly it will more than pay for itself over time, whether it be in monetised Niche websites for yourself or SEO projects for others.
The following links will provide you with access to resources created by The SEO Experiment.
Web CEO Tool Guides
Web CEO for The SEO Experiment